MAKE YOUR BUSINESS CARD AVAILABLE ONLINE IN ONE LINK OR QR CODE.
CardURL is a link to your online business card, as URL or QR-code. It allows you to do much more than on paper or in a simple QR code.
CardURL is not an app, nor a directory. It uses the default camera app. There is nothing to install, just benefits.
Get started
Watch our video on how to get started
in a few minutes:
Open account
Create first card
Activate free premium
Add your card to your email signature
Reprint your business cards (optional)
Load your card on your phone
Get started
Watch our video on how to get started in a few minutes:
Open account
Create card
Activate premium
Start using
your card
Watch our 4 minutes video on how to get started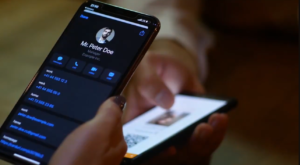 For lots of us, personal and professional encounters with new people happen daily. And we