HOW IT WORKS
Copy your business card information into the system and receive a unique link in form of a short URL, small QR code or vanity URL.
Then print the link and the QR code on your business cards, letters and handouts and include them in all your electronic documents.
Your business partners will simply type the URL into a browser or scan the QR code to view and save the information directly into their contacts. No extra app is required, your partners can use the links from the browser to call you, navigate to your address, connect to you trough social media and more.
You can be notified when your card is accessed and your business partner when your information is updated.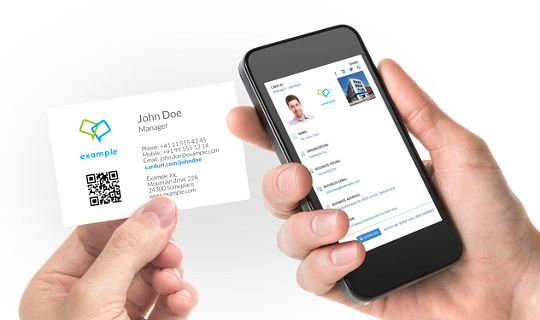 START WITH PREMIUM FEATURES FOR FREE
The first 90 days are on us! Save time and take every premium feature for a test drive.
Simply create an account. Then upgrade a free card with the coupon you'll receive.
(No credit card required, automatically downgrades to free service after trial period)